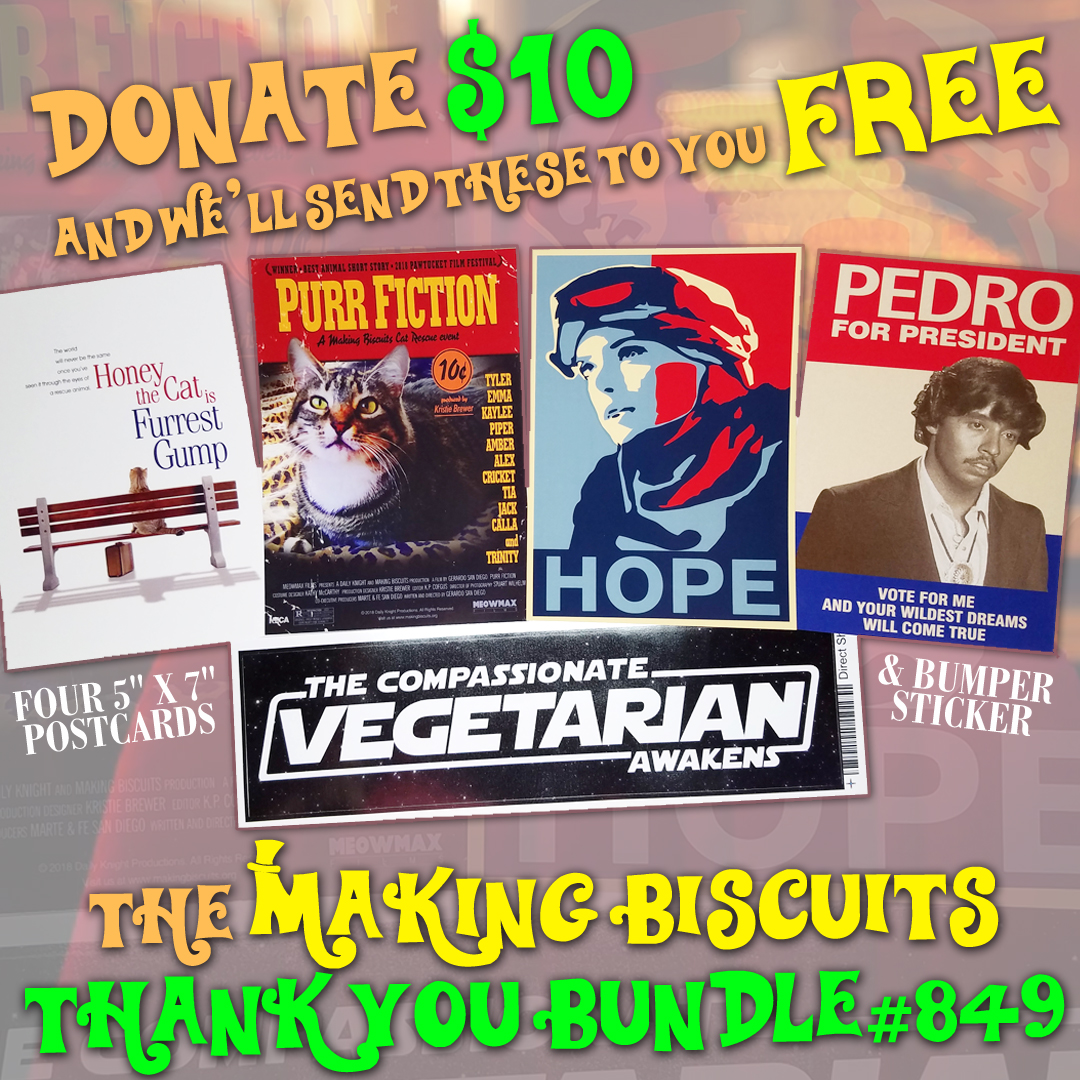 THE MAKING BISCUITS THANK YOU BUNDLE #849: MOVIE CARDS & BUMPERSTICKER
Just donate at least $10 through PayPal, Venmo or by check, and we'll mail these goodies out to you!
Four 5″ x 7″ glossy movie parody postcards that you can keep around the house as conversation items, and
A 3″ x 11″ VEGETARIAN bumper sticker that tells everyone you are a proud vegetarian
(Even if you aren't all the time, there ARE some days that you are, right? Right?)
Donate by check:
Making Biscuits Cat Rescue
2201 N. Lakewood Blvd., Ste. D #304
Long Beach, CA 90815
Thank you for your support!
"The greatness of a nation can be judged by the way its animals are treated." -Mahatma Gandhi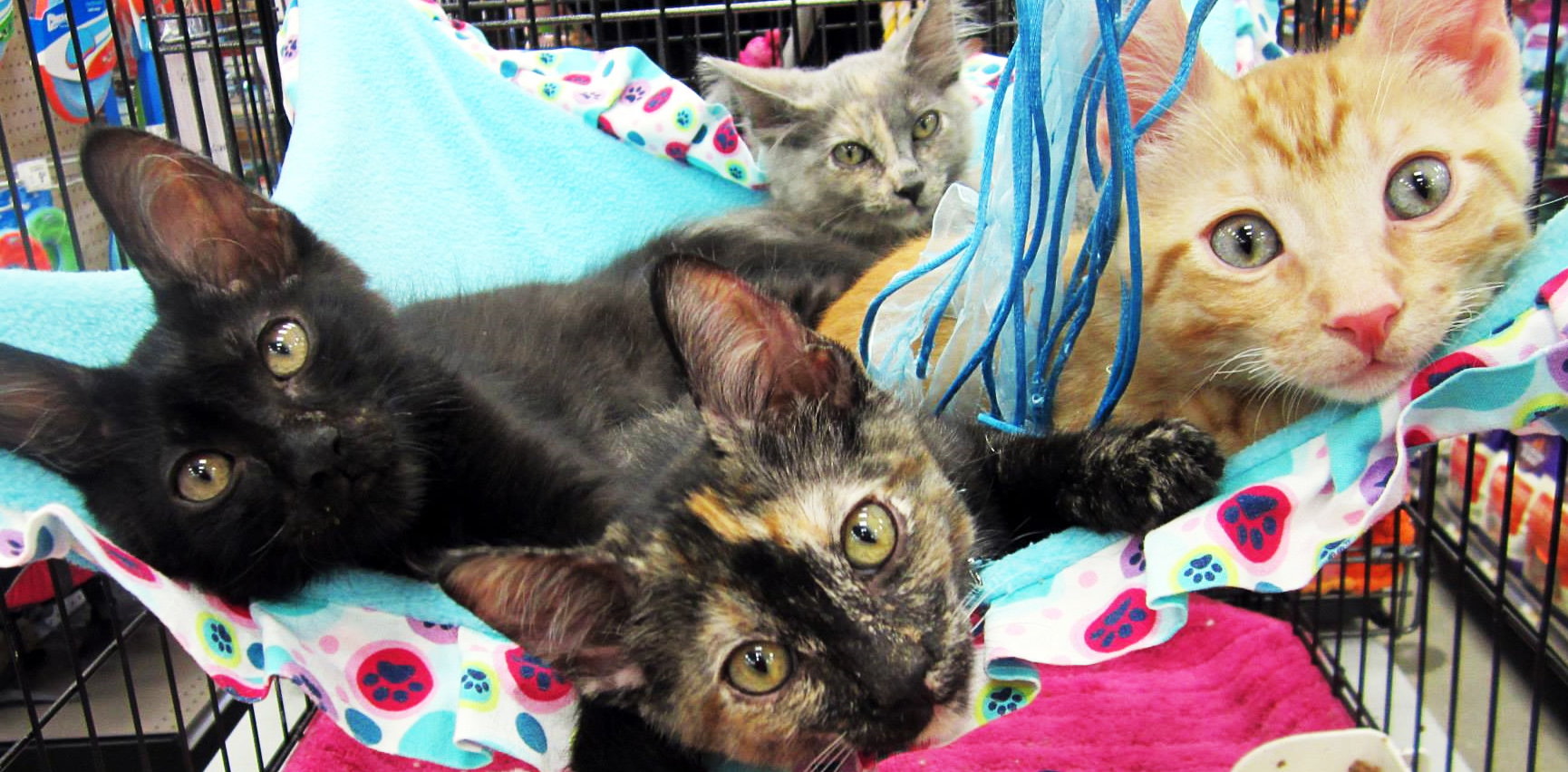 Making Biscuits Cat Rescue is a 501c3 nonprofit that strives to improve the community by helping to manage the cat population, assisting in the trapping, spaying and neutering of rescue cats, and working with and educating cat owners in the proper care and feeding of their beloved furbabies. Below are some of the marketing ads I created for them. Please consider visiting their site and donating to their cause. Thank you.

Donate by check:
Making Biscuits Cat Rescue
2201 N. Lakewood Blvd., Ste. D #304
Long Beach, CA 90815
THANK YOU!

Even if you donate JUST ONE DOLLAR, that dollar will buy a can of food that a rescuer can feed a stray cat, or help get the cat in a humane trap so it can be taken to an animal hospital to be checked out medically and spayed/neutered. Just one dollar will help prevent unnecessary kittens being born and help with controlling overpopulation.
One of the reviews for Making Biscuits Cat Rescue on the GreatNonprofits.org website:
My husband and I volunteered with Making Biscuits for the past two years. We helped with the daily chores of scooping, wiping, feeding, and changing water. We would also socialize with them while we were working and got to know most of the kitties. Our eyes were opened to the cat overpopulation issues all over Long Beach and the surrounding cities and how important Making Biscuits Cat Rescue is to help combat those issues. It is amazing the care she offers each cat from the best vet care, proper nutrition, and even dental cleanings. She takes in sick, abandoned cats and nurses them back to health. We also appreciate the help she offered when we took in a stray cat from our apartment complex. She took him to get him fixed and got him micro chipped. The microchip was a life saver a few months later when he ended up in the animal shelter and we were out of town. She picked him up for us and kept him until we got back. My husband and I really enjoyed helping her and getting to see firsthand how much she cares for and loves the cats she rescues. Whether you volunteer or adopt from Kristie, I'm sure that you will see why we can't imagine a better rescue than Making Biscuits Cat Rescue!

…and she can always use donations 😉
– mrrenee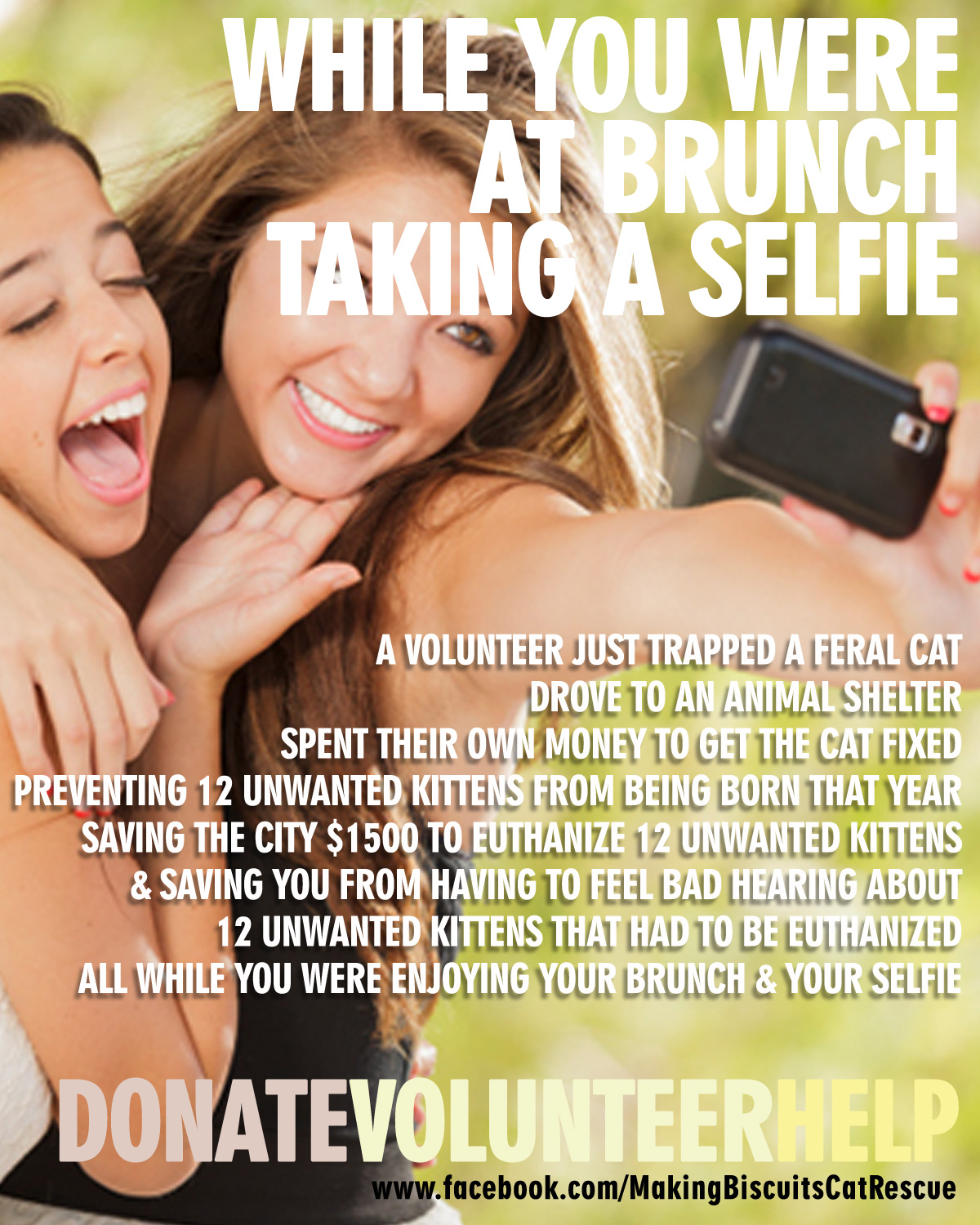 Website: makingbiscuits.org
PayPal Donate: www.paypal.me/makingbiscuits
VenMo Donate: venmo.com/makingbiscuits
Making Biscuits on Greatnonprofits: greatnonprofits.org/org/making-biscuits-cat-rescue
Facebook: facebook.com/MakingBiscuitsCatRescue
Instagram: @makingbiscuitscatrescue
About Making Biscuits Cat Rescue
Making Biscuits is a cat rescue started in June of 2009 in an effort to humanely reduce the overpopulation of stray and feral cats. Adoptable cats are spayed/neutered, defleaed, dewormed, vaccinated, microchipped, given veterinary care including, when necessary, seen by a veterinary specialist (i.e., dental, eye, etc.), fed premium food and loved immensely. Making Biscuits feels very strongly about the role nutrition plays in the long-term health of our cats and whenever possible, educates pet owners. We advocate spay and neuter and often help people in the Long Beach and surrounding areas with their own pets as well as strays by loaning traps and cages, humanely trapping, defleaing/deworming, teaching bottle feeding, providing information about area clinics, veterinarians, behaviorists and all other aspects of cat parenting.
If you're on Amazon, you can also send Making Biscuits a gift from their wish list:
http://amzn.to/1XHjVC4
Or go here and select "Making Biscuits Cat Rescue" as your charity of choice (it costs you NOTHING, Amazon will donate a % of THEIR profits to the charity):
http://smile.amazon.com/ch/27-2801690